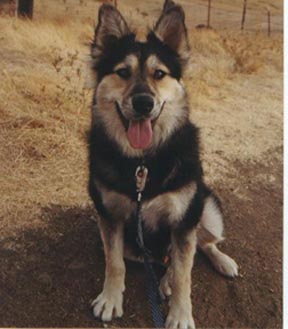 George is a two and a half year old shepherd mix with a wonderful
personality--and he's pretty adorable, too. He loves all people and is very approachable and submissive. He knows a lot of obedience commands very well such as: sit, down, stay, wait, and don't touch. George is very social and really enjoys time with other dogs. Dog parks are his favorite. He loves
going for walks and even tagging along for a run in the hills. He is very
active and strong and needs someone who enjoys being just as active as he is. He is incredibly sweet and loves nothing more than a tummy rub and
someone to cuddle-up to. He would love a home with another dog but no
cats...George chases cats and squirrels. He is looking for a great home to call his own.


If you'd like to meet any of the dogs involved with the program this quarter, we encourage you to attend one of our training sessions, held on the UC Davis campus on Wednesday evenings from 7:30 PM. You can find directions and maps on our Directions Page. If you'd like to attend a class or have any other questions, please contact us via email at shelterdog@ucdavis.edu or call 530-792-6177 to make an appointment.
You may also want to check out our Other Adoptions Page for pictures and descriptions of other dogs at local shelters or in foster care who need homes.