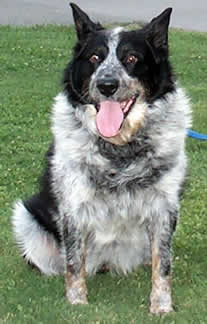 Harley is a 6 year old cattle dog mix, and a real sweetheart. He was a little overweight when he came from the shelter, and is doing great on his new diet. He is extremely affectionate and sweet- his foster mom says that he loves EVERYONE, but he may love cats a little too much,because he likes to herd hers around. He would love to find a family to walk him, introduce him to new friends, and give him lots of belly rubs.
If you'd like to meet any of the dogs involved with the program this quarter, we encourage you to attend one of our training sessions, held on the UC Davis campus on Wednesday evenings from 7-8 PM. You can find directions and maps on our Directions Page. If you'd like to attend a class or have any other questions, please contact us via email at shelterdog@ucdavis.edu or call 530-792-6177 to make an appointment.
You may also want to check out our Other Adoptions Page for pictures and descriptions of other dogs at local shelters or in foster care who need homes.