Directions to Our Training Classes
Training classes are held on the UC Davis campus in building Surge III. We encourage prospective adoptive families to attend one or more of these sessions (held from 7:30pm) on Wednesday evenings and meet our dogs and their foster families. Please send us an email (shelterdog@ucdavis.edu) to make an appointment to visit.
To get to the classes, take Hutchison Rd. East from Highway 113.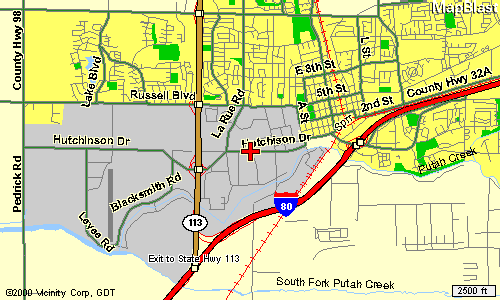 Continue east on Hutchison Rd. from Highway 113. Cross La Rue Rd. Pass the first intersection (Dairy Rd.) and make the next right into Parking Lot 41. You'll have to buy a visitor parking permit ($4). Alternatively, drive past the parking lot entrance and make the next right onto Bioletti Way and park at one of the meters. Walk back out to Hutchison and continue east past the next intersection (Bioletti Way). Surge III will be the first building on your right. You can enter through the double glass doors at the northeast corner of the building and proceed to room 1310 (you'll see and hear the dogs!).